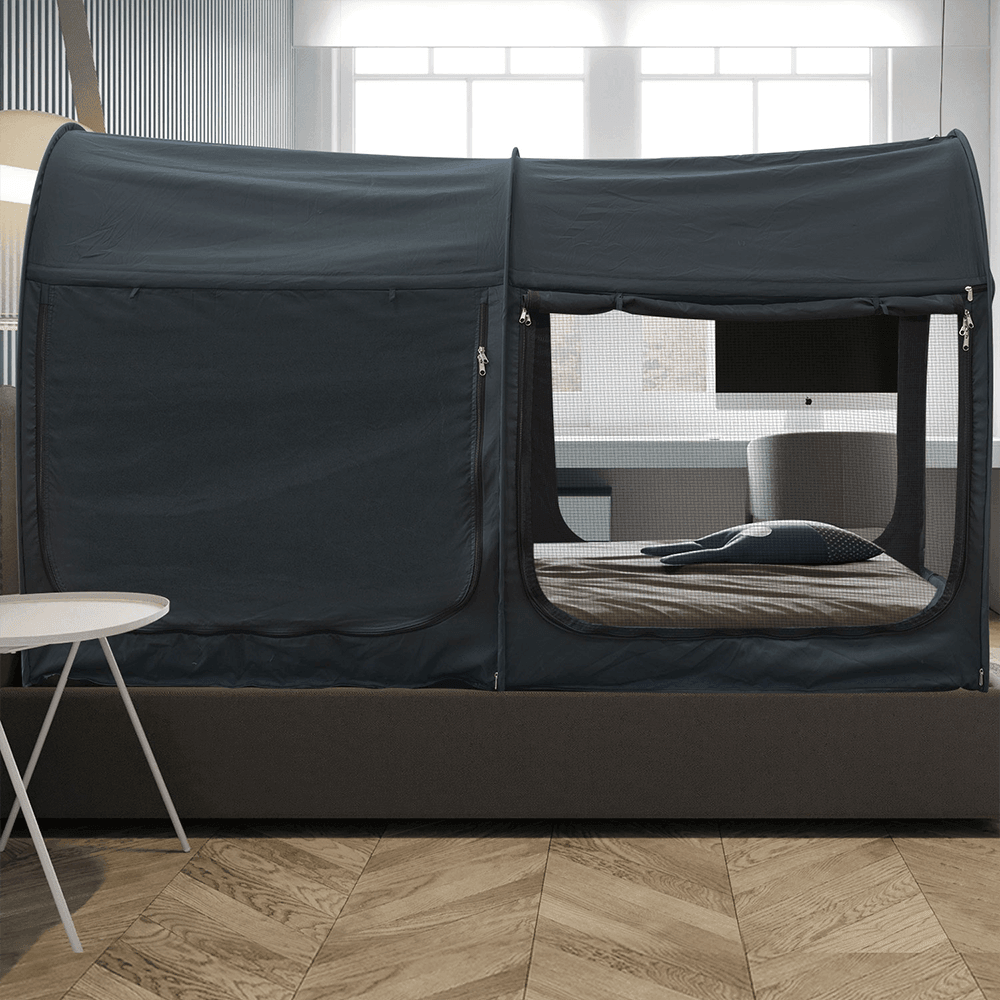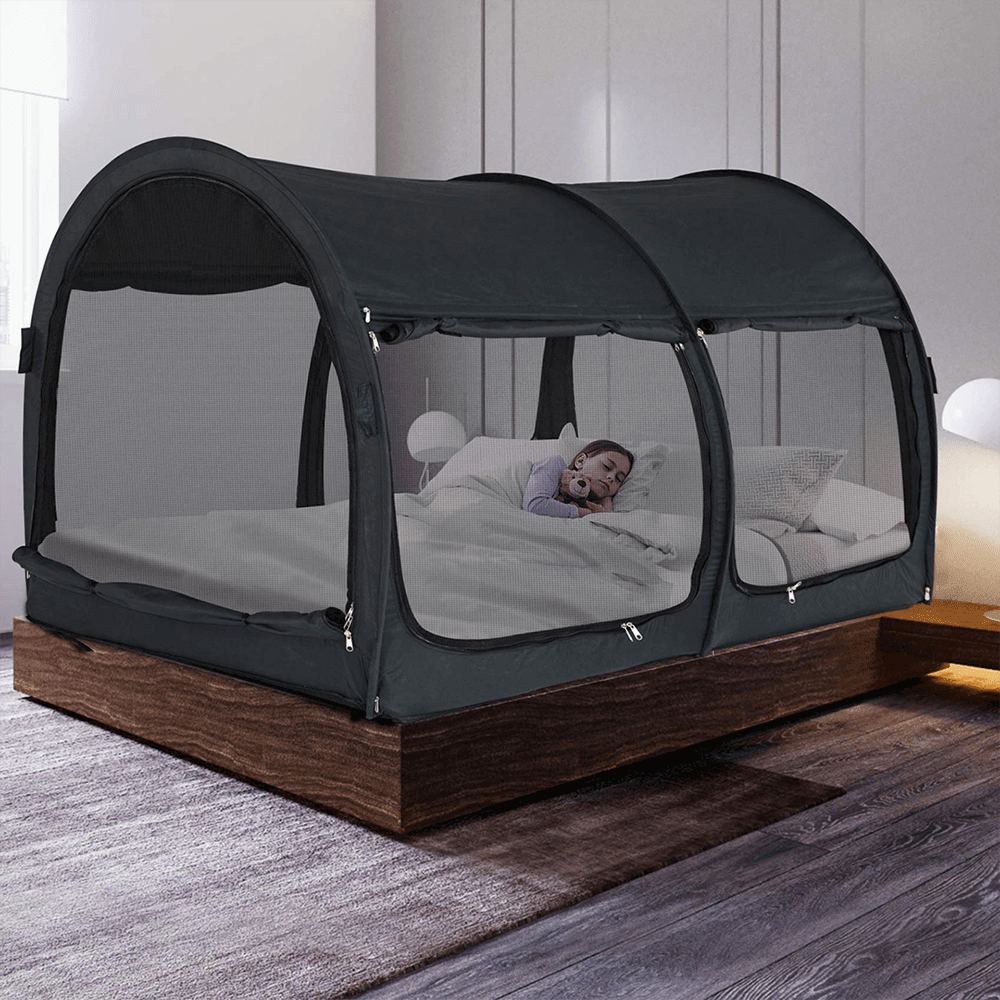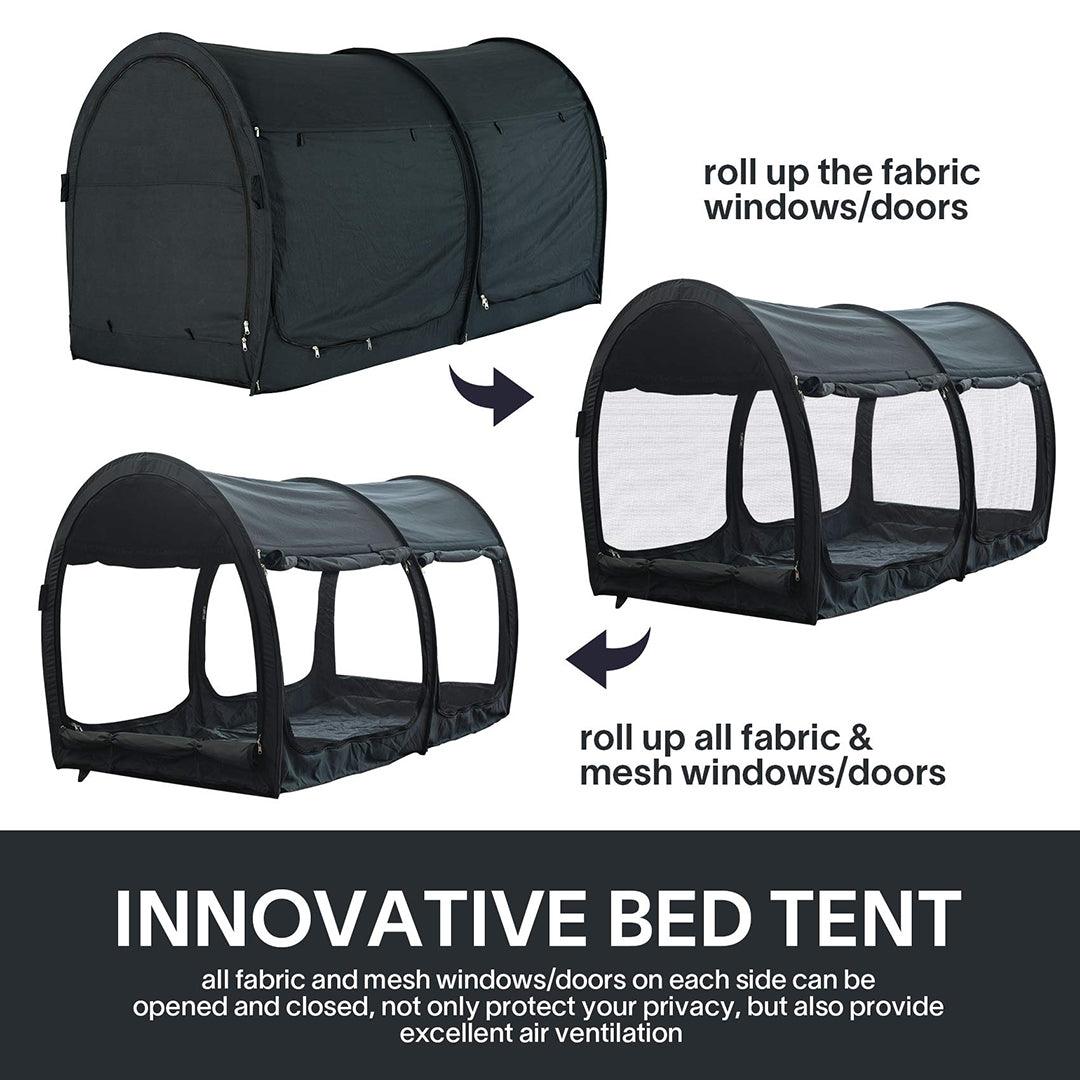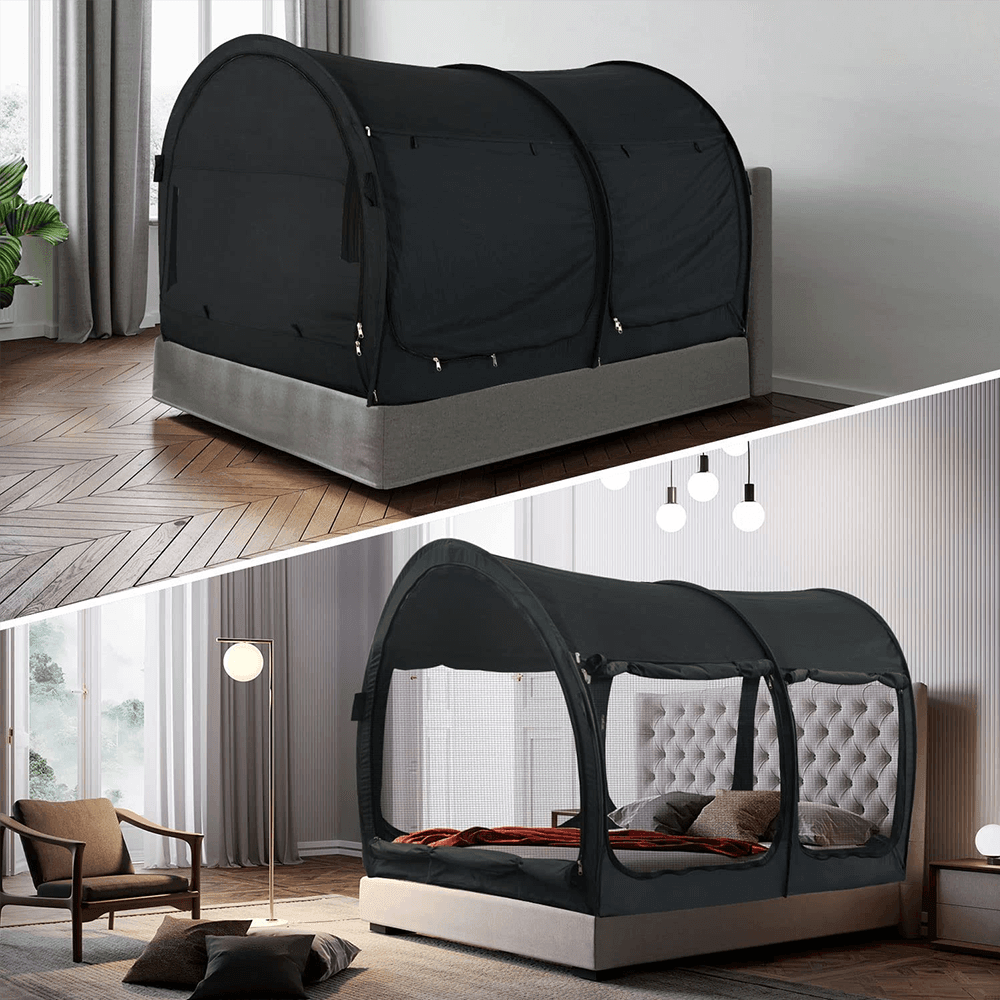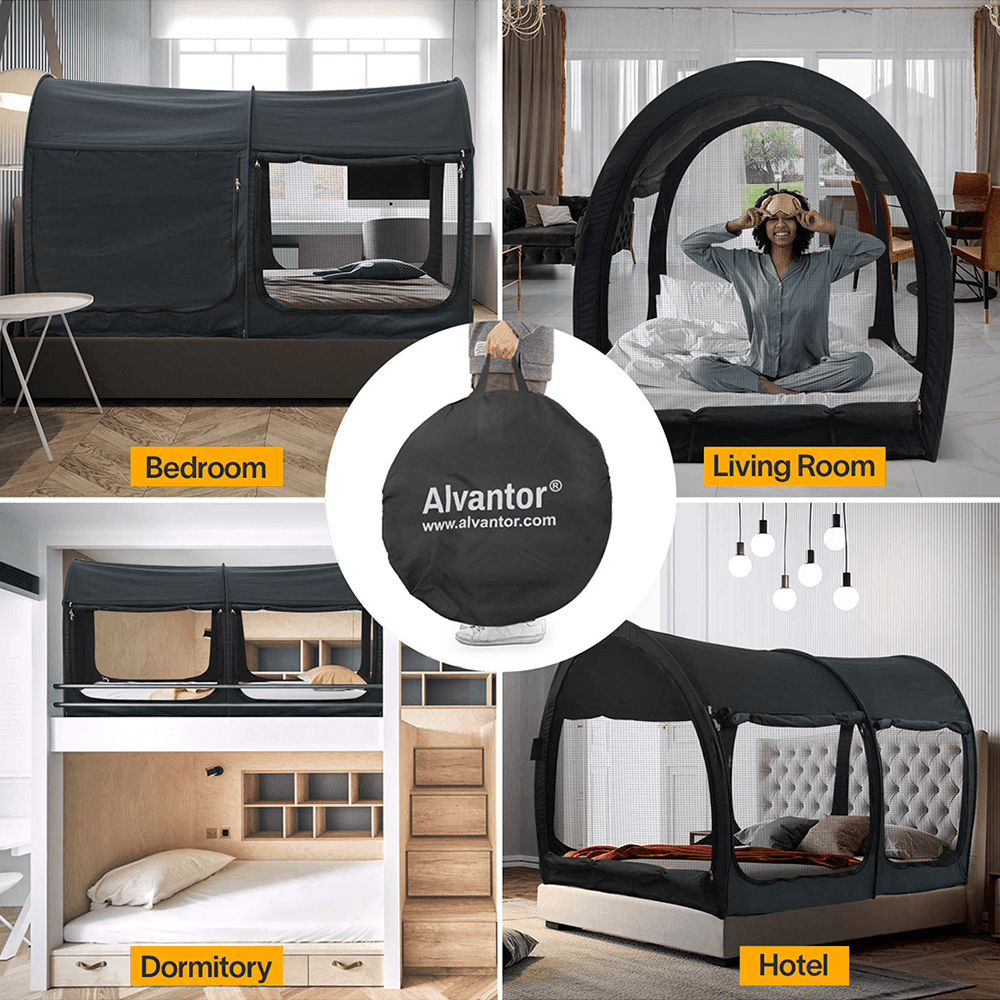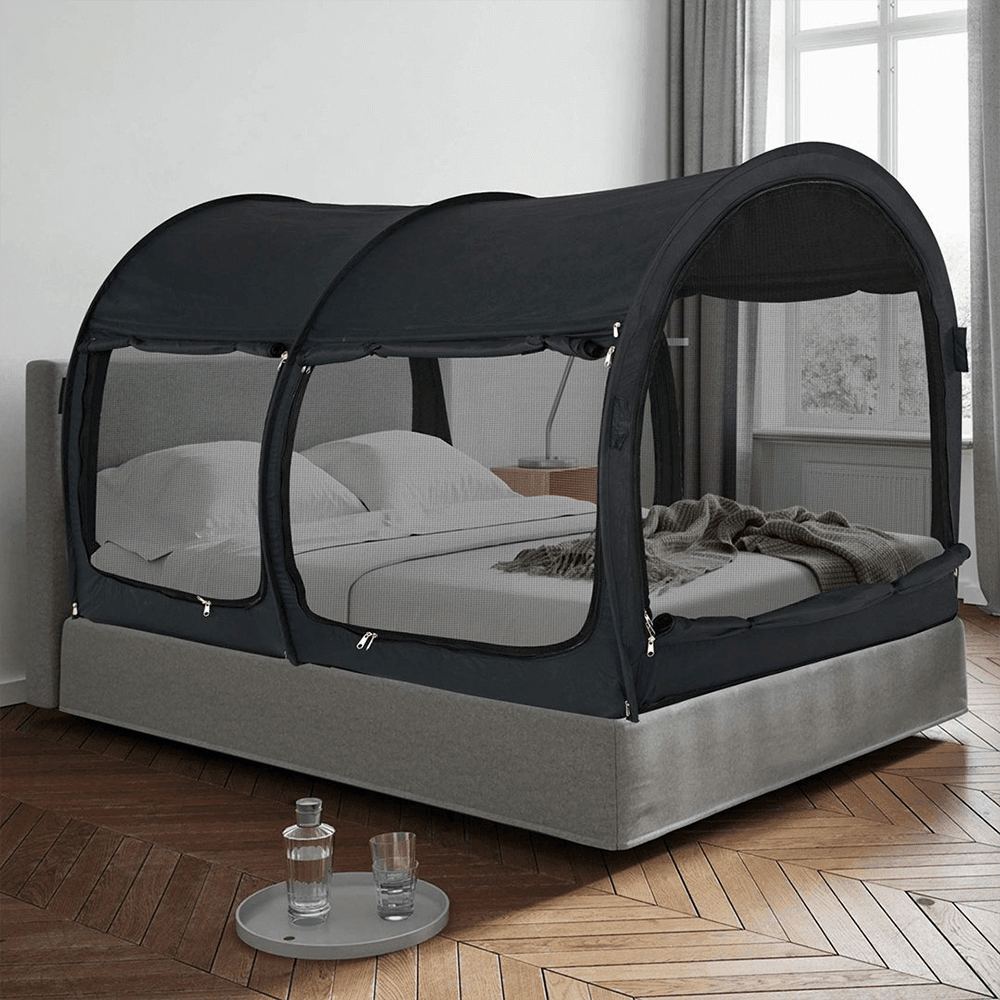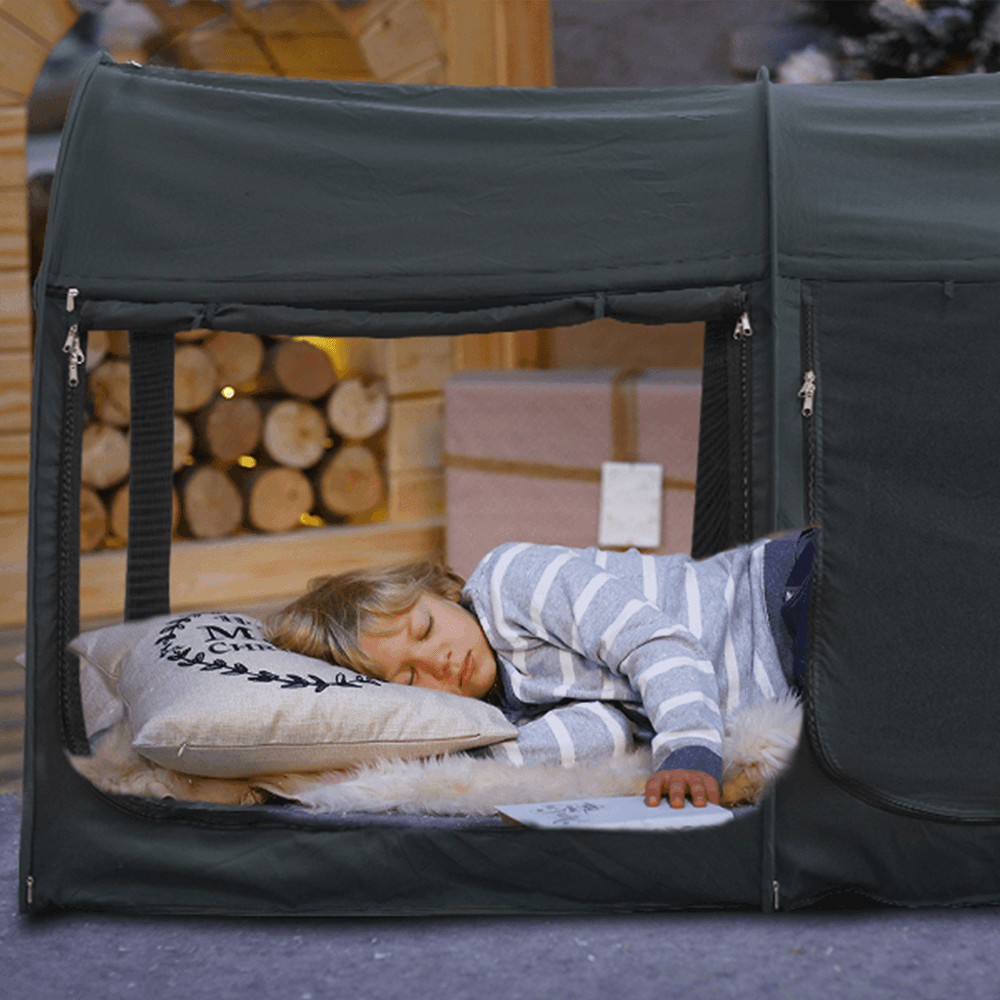 Alvantor Bug Free Bed Canopy Tent, Full Netting Sleeping Tent With Excellent Air Flow
Sale price
$169.99
Regular price
$169.99
(/)
UPS Free Shipping & 5-10 Days Delivery
Description:
Do you have a sleep disorder? Do you want extra darkness in your bedroom? Prefer the feeling of a cozy space to crawl into? Sharing a dorm room but would like a bit more privacy? Maybe you just want a hideaway during the day after your night shift work. Well then, the Alvantor pop up bed canopy tent may be just what you don't want to miss. Dark colors minimize lights, as a blackout bed canopy that no one can see in, a personal privacy space get! Airtight? Of course not! This full netting bed tent has 4 mesh-covered gates and 2 windows to control ventilation and light. Zero time worrying about mosquitoes during summer. Set it on top of your bed frame or box spring, or just on the floor, slip a mattress inside, and voila: your own cocoon. 
Feature:
Easy setup and take down;
Durable Fiberglass Frame, no collapse, no bent, no leans off, no unstable;
Extra-trifling mesh netting ensures 360-degree anti-mosquito;
Made with pongee fabric which is breathable and soft;
Blackout fabric creates personal privacy space;
Easy to clean and machine washable;
Folds to a compact size for easy storage;
Mesh Covered 4 gates and 2 windows to control ventilation and light;
Gives more control over the light and airflow, suits for all seasons;
Hook inside for hanging lamp;
Double-sided zippers for easy opening and closing of windows and doors;
Available in two sizes, twin size and full size.
Usage Scenarios
Specification

STYLE:

 

Twin
SIZE:75"X39"X45"
PACKED DIMENSIONS:21"X21"X2"
WEIGHT:6.1 LBS
ACCESSORIES:

 

75" Knockout Pin*3, Warranty card 1 year

 

STYLE:

 

Full
SIZE:75"X54"X47"
PACKED DIMENSIONS:23"X23"X1.8"
WEIGHT:6.9 LBS
ACCESSORIES:

 

75" Knockout Pin*3, Warranty card 1 year
Instructions
Choice for Autistic Parents
Choose options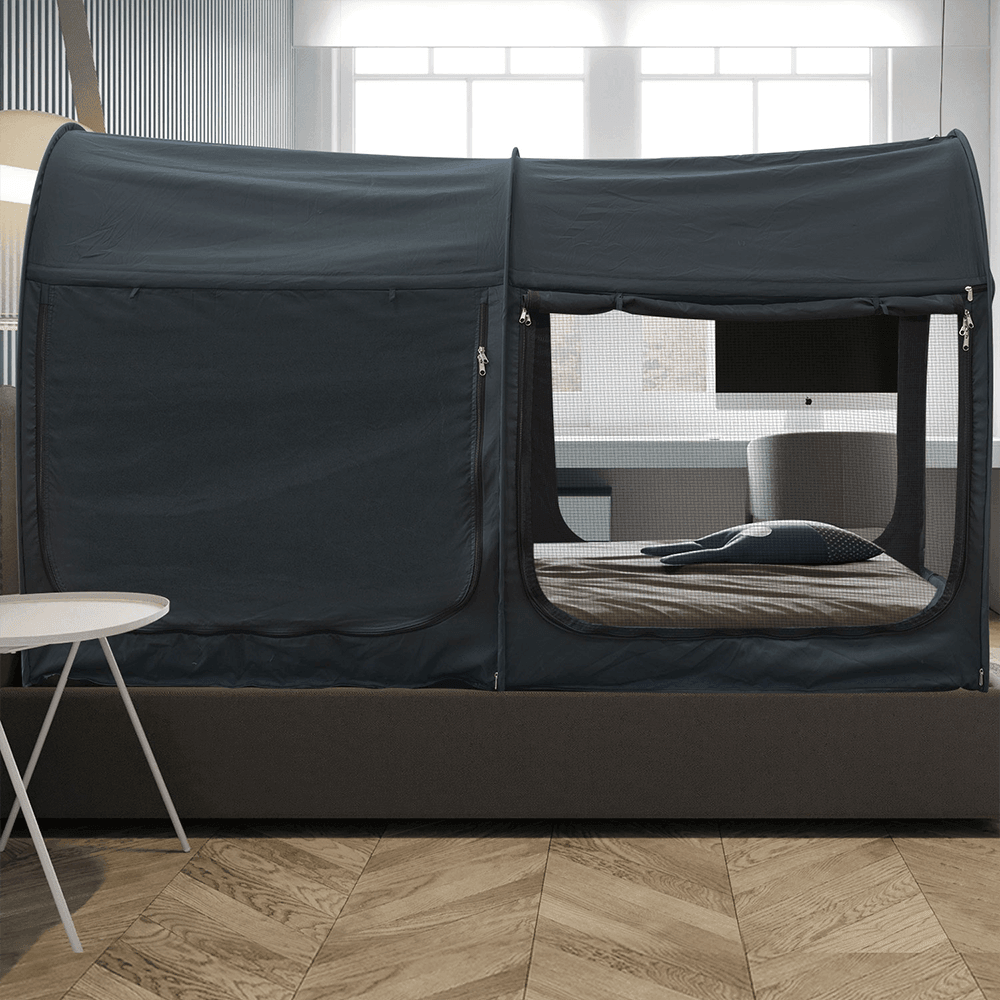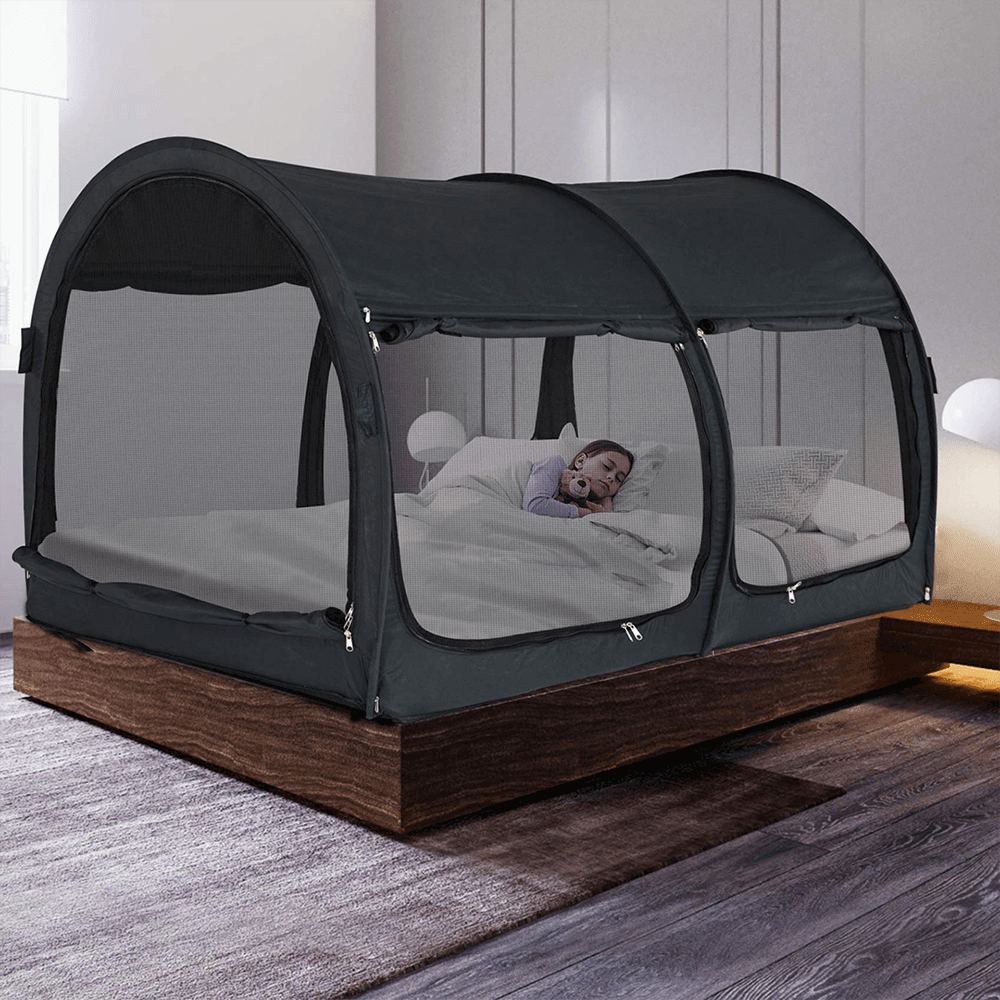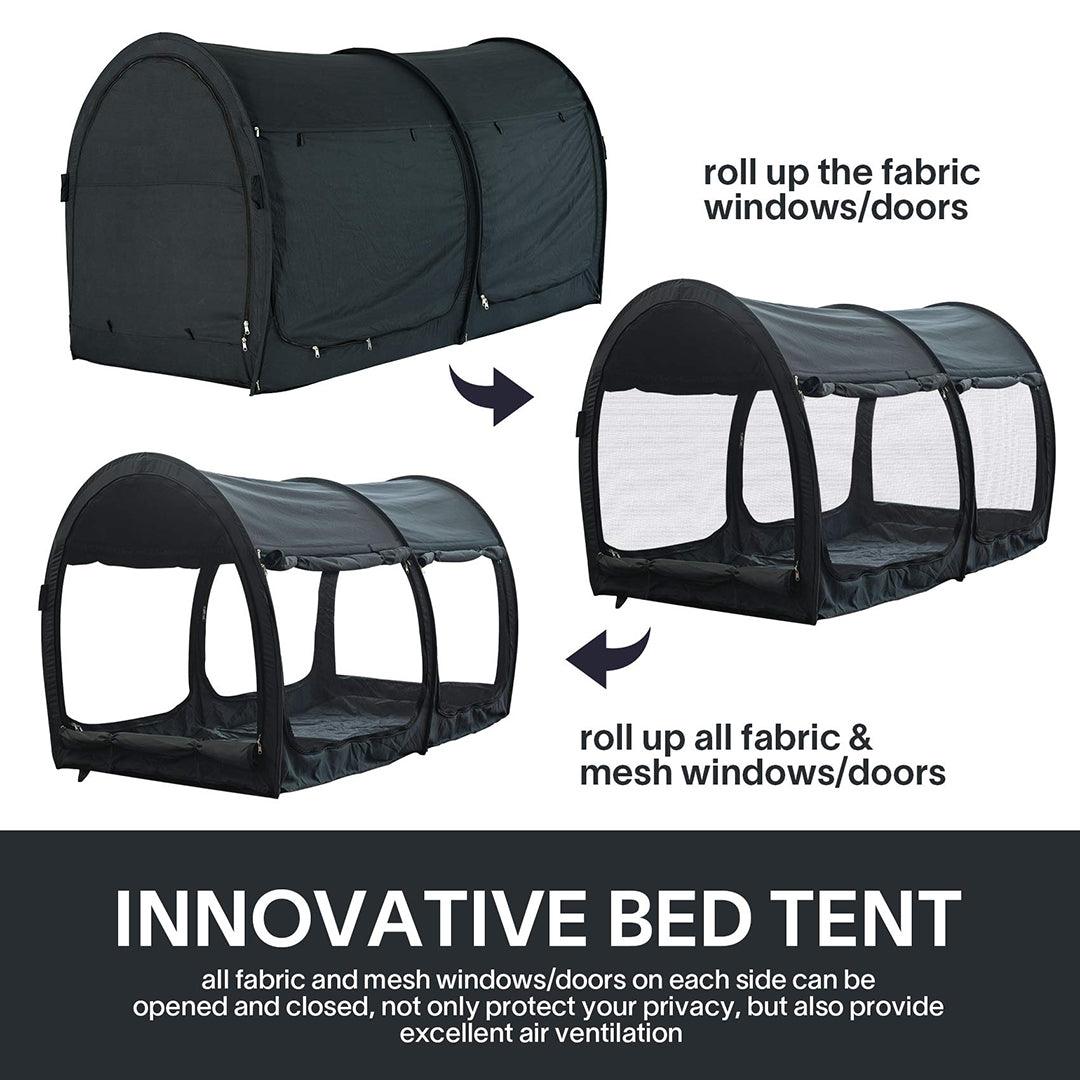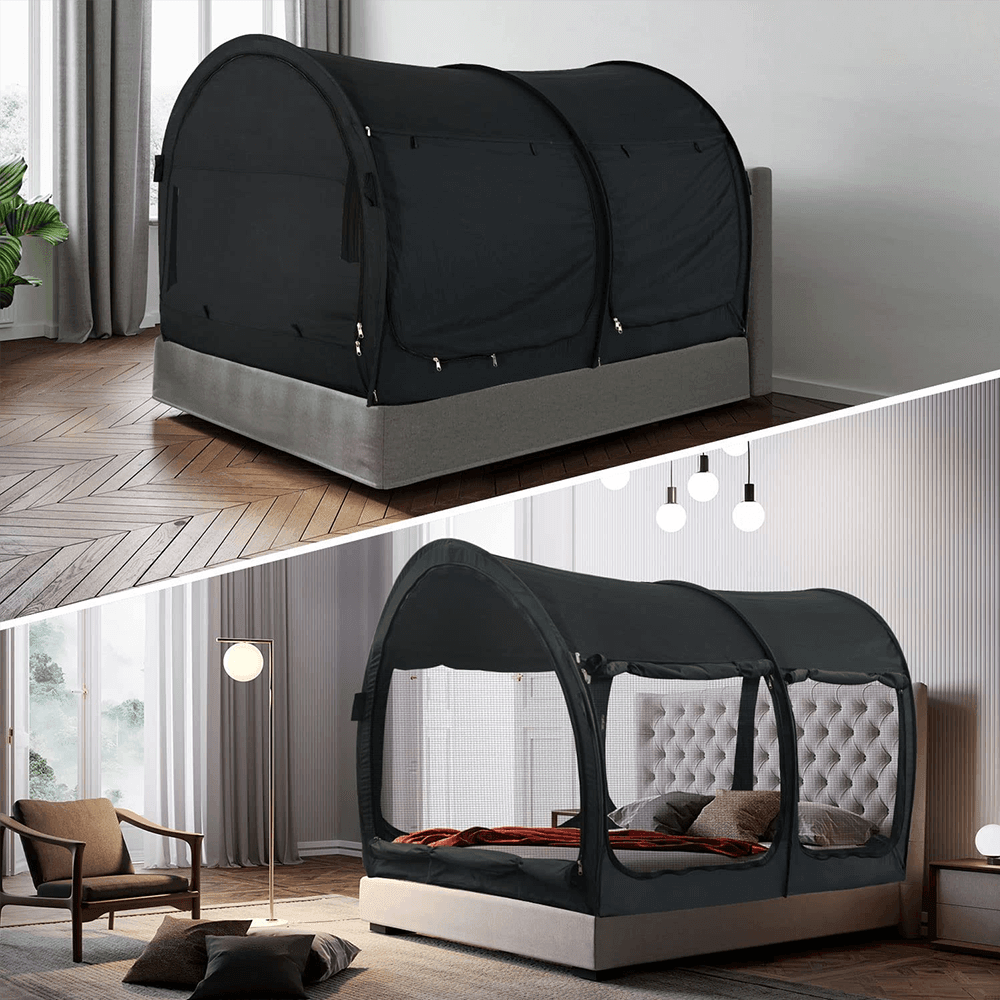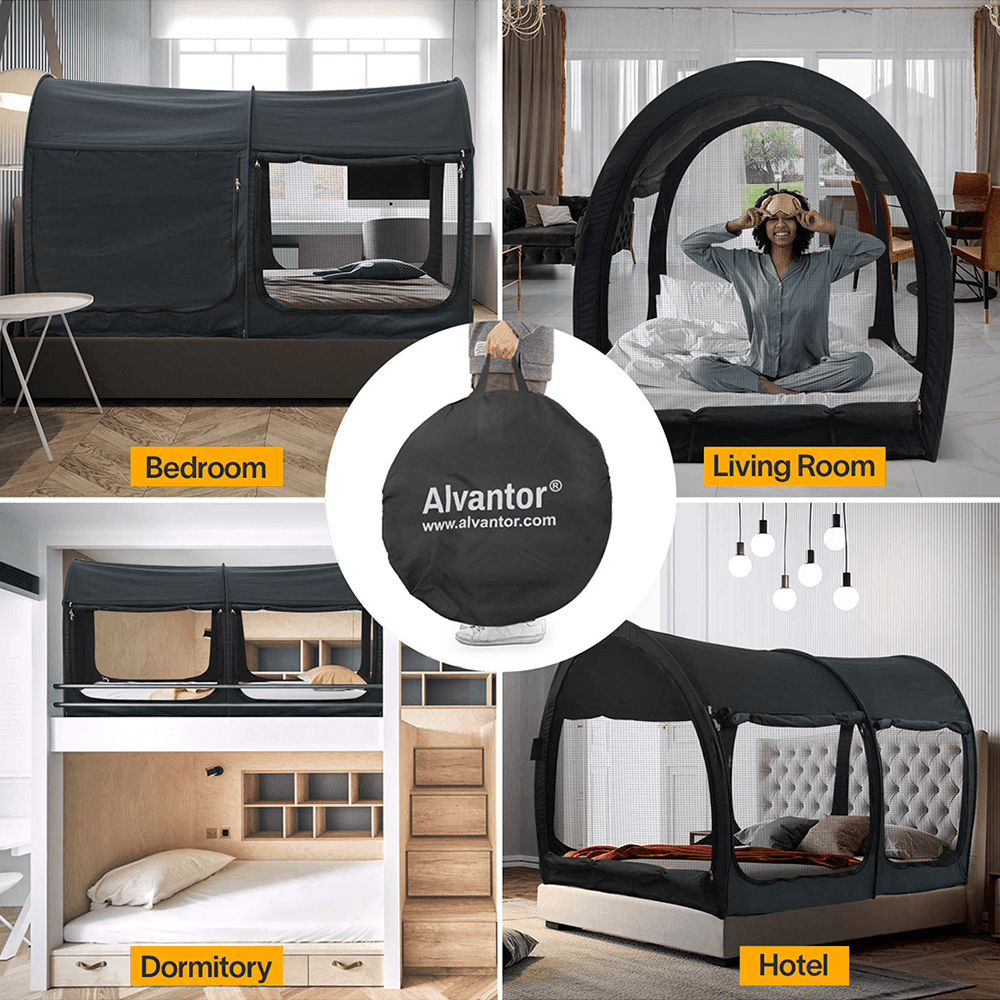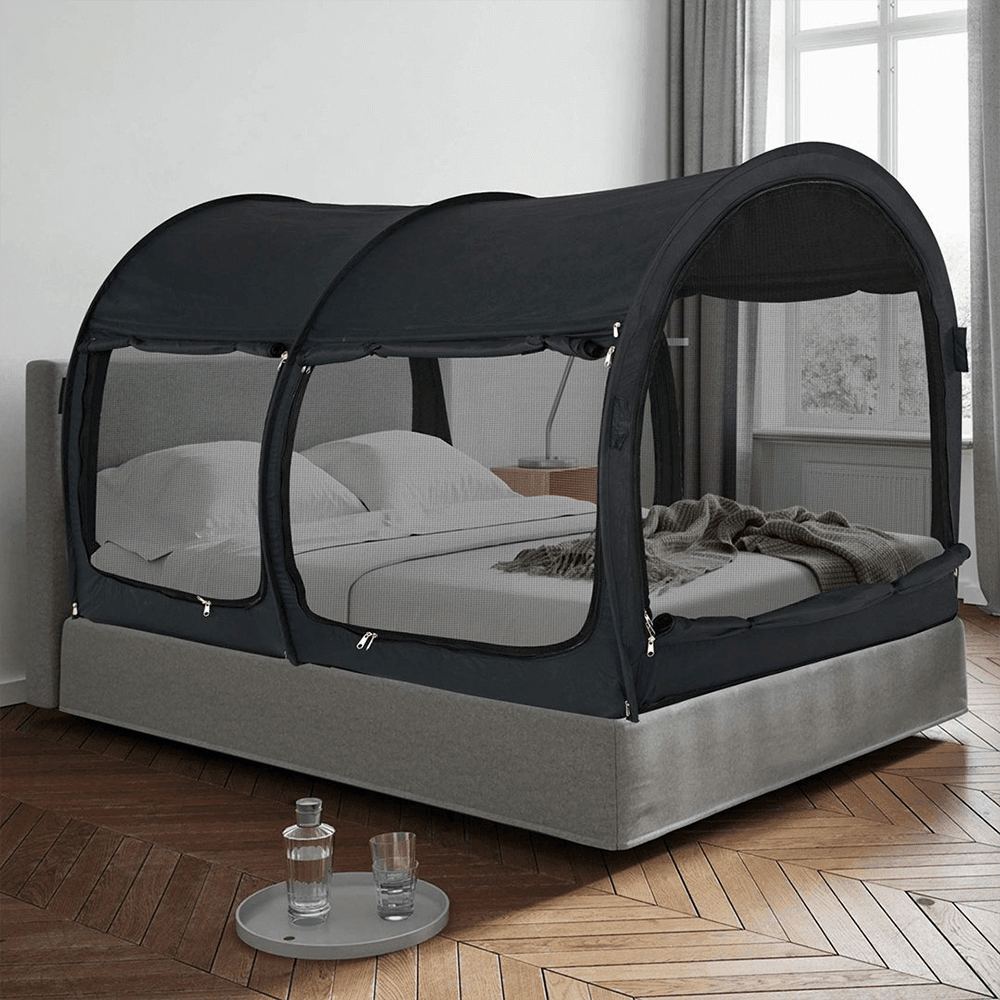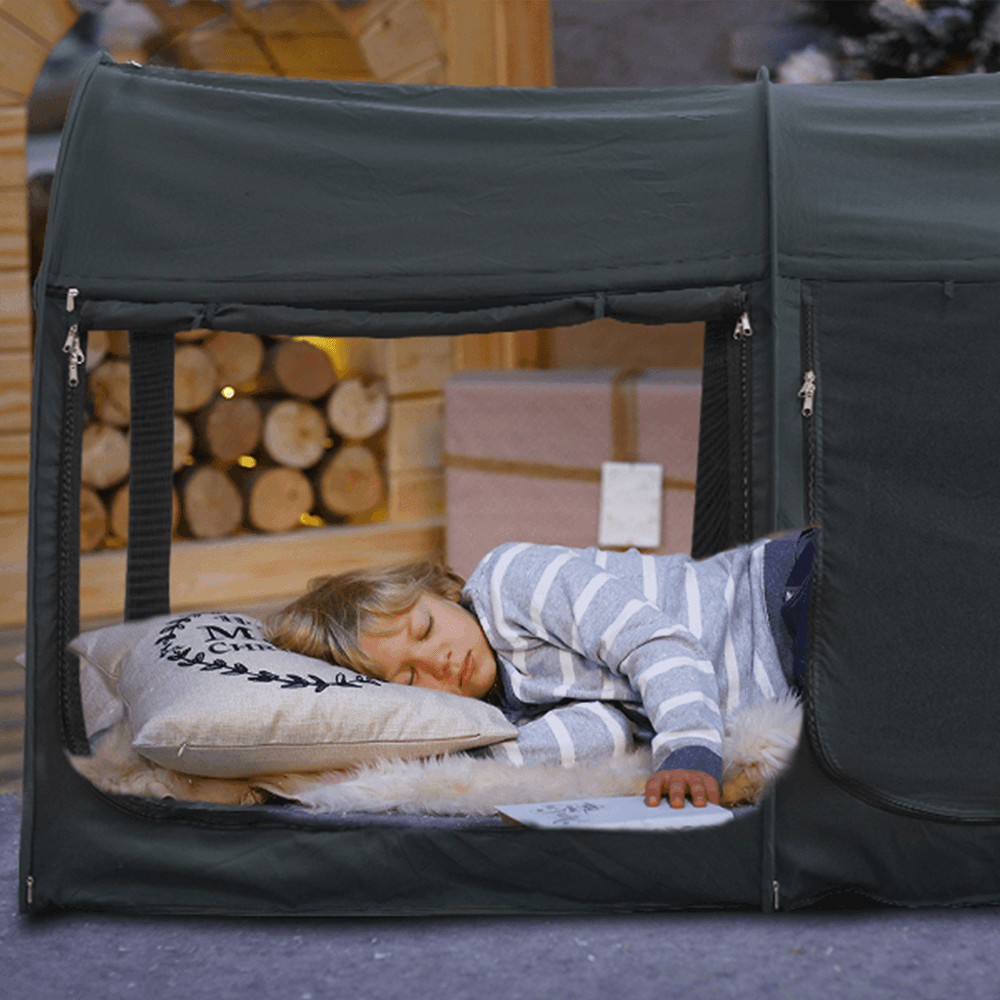 Sale price
$169.99
Regular price
$169.99
(/)
UPS Free Shipping & 5-10 Days Delivery
View details
Excellent
My tent shipped quickly and was pretty easy to set up. It is exactly what I needed to sleep better. My room is a high traffic area so it really helps to have my own "space" my dog loves it too
Great Experience to Try!
I am happy with the speedy delivery. I am very happy with the quality of the material used. I confess this is a gift for someone I am so happy to be able to give. Also, this is a second bed tent twin size for me I purchased. This compares side by side with the first one coming from a now defunct company. So my experience is personal using my first ever bed tent! I was desperate when buying the first tent. The apt was like living in the Grand Canyon with this hideous gas hot air heating. Not only am I happy a year later but cannot believe the quality of really restful sleep. I have this to use when I get those zig zag eye pains abd also for deep meditation at any time of the day or night. I recommend highly this bed cabin. The new tent is excellent quality with excellent zippers both heavy duty. However, it is configured differently than the first. I believe having the end opening will be a better experience as I really like the ability to look at the TV while being inside the tent, sort of like being in the dark movie theater of old. I am sure he will be ecstatic!
Granddaughter loves it
Takes a lot of strength to assemble but its sturdy once assembled. We put it together in the living room and drug it to the bedroom and it stayed together without a problem.
Easy to put the mattress in the tent, just hard to hold the tent and the mattress. Definitely a two person job. Lol.
Very cool
I love this thing. Bought it for my gigs as a seasonal employee at National Parks and ski resorts. Great for if you have a roommate so you dont feel like they are looking at you all the time. In general though, I find it amazing for giving my senses a break after long days. The company should market it to neurodivergent people with sensory issues, because it really helps with that. Blocks most light, slightly dampers sound, and gives privacy in shared spaces. Combined with ear plugs you can really turn the world off. Hoping it lasts a really long time for the price, but it was worth every dollar to me.
Happy Mama
Easy to assemble and set up. Only took me to do it. My almost 10 year old son absolutely loves it! I was hesitant to purchase, now I am excited that I went through with it.