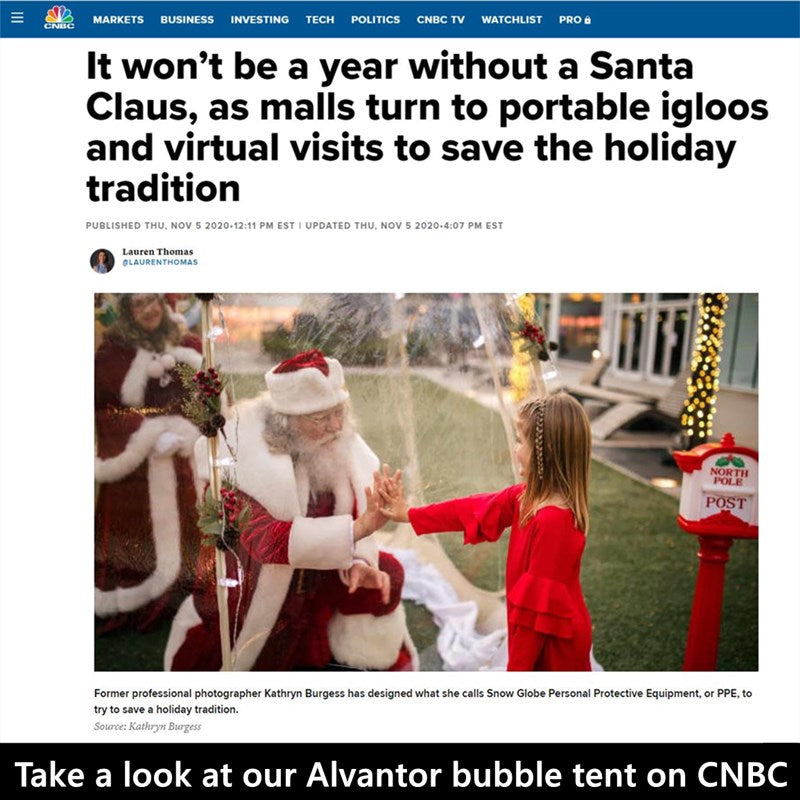 It won't be a year without a Santa Claus, as malls turn to portable igloos and virtual visits to save the holiday tradition
KEY POINTS
Families' visits to the mall to see Santa are going to look a lot different during the coronavirus pandemic.
A coalition of Santas and Mrs. Clauses, major retailers and America's mall owners, are drawing up a new blueprint for a tradition that dates back to the 1800s.
Mall owners like Macerich and Taubman are trying to get creative with their own safe programming. Macy's and Bass Pro Shops have new initiatives this holiday season, too.
Former professional photographer Kathryn Burgess has designed what she calls Snow Globe Personal Protective Equipment, or PPE, to try to save a holiday tradition.
Source: Kathryn Burgess
Brookfield Property Partners, which owns The SoNo Collection mall in Norwalk, Connecticut, will use her concept, and she'll also be bringing the Snow Globe Santa to St. Jude's Hospital in Memphis, Tennessee. Inflatable globes are already set up in Kentucky, Georgia, Nebraska, Oklahoma, Michigan and Texas, she said.
"Some people have said that they're going to throw Santa away," this season, Burgess said. "And I just believe that's such a disservice to the character of who Santa Claus is. Santa Claus has survived everything from the Spanish Flu to the bubonic plague. And he's not afraid of Covid-19."
Santa goes virtual
The pandemic has accelerated the number of people shopping online. And it looks to be shaping a new digital experience with Santa and Mrs. Claus, as well.
"This is the beginning of an evolution," IBRBS' Arnold said.
Virtual Santa companies like JingleRing and Santa's Club, which offer real-time conversations with Santa Claus, have exploded in popularity, he said. If the trend holds, it could certainly put a damper on families' long-standing traditions. But maybe for the better.
"The Santa community will actually be able to reach more people through the virtual industry," Arnold said.
"It'll take less time, you can schedule an appointment for whenever it's right for your family ... [and] it's not just, 'Oh, I've got to take them to the mall and wait with them in line for an hour and a half, and they're falling asleep.'"
— CNBC's Amanda Lasky contributed to this reporting.
Learn More: https://www.cnbc.com/2020/11/05/mall-santas-to-use-igloos-and-virtual-visits-as-covid-cases-surge.html